It is hard to believe that the middle of March is here again. It seems like I was JUST posting February's work cake – and now here is March's cake!
Since the meeting/party is this week I went with a St. Patty's theme – much like I did 2 yrs ago. This time around I decided to use the fun of those rainbow cupcakes and make a rainbow cake! I did it with a similar method that I used to make the rainbow cupcakes, but instead I spread it over 2 pans worth, and this time I actually spread out the batter vs. heaping it in the middle. I'm pretty pleased with the results! (see inside pic below!)
So this month we have a 10″ cake (the rainbow cake) and a 3-layer tall 8″ cake for the leprechaun's hat on top of it. Happy St. Patrick's Day!
And a closeup of the "pot 'o gold"…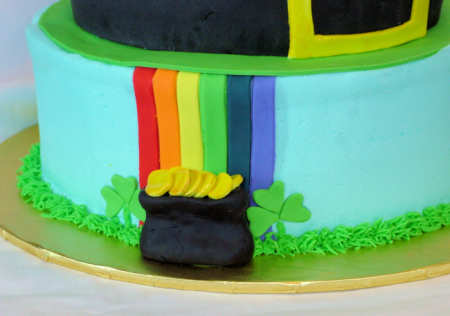 And the inside of the rainbow cake…yes I cut this cake in half before I decorated it 🙂 I told my husband of my intentions and he said "they don't care – as long as they can eat cake" ha! But I had to get a pic of how it turned out!