Cakes come in so many flavors, but what about colors?  Coloring the cake batter is an easy way to add some extra fun and surprise to your cake.  And kids love it!
Today we're tackling how to make rainbow cupcakes.  I made these last week for my daughter's 9th birthday.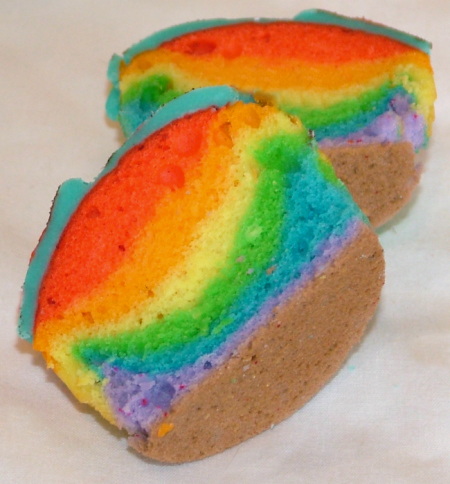 You can start out by making your favorite cake recipe (whether it be a mix or scratch) for WHITE cake.  Be sure to use egg whites as specified on the back of the box and NOT whole eggs.  The yolk gives a yellow tint and it will be harder to get nice, true colors.  If you are baking from scratch, be sure your recipe makes enough batter for the number of cupcakes you need.  My measurements are based on making 24 cupcakes.
After you have your batter mixed up, split up the batter evenly into 6 different dishes. I got somewhere close to 3/4 cup worth of batter into each color. But mixes do vary some.
Then take your food coloring (I prefer Americolor) and add a few drops and mix the color in.  You can see how dark my colors are once mixed.  If you do them lighter, they will bake up lighter.  But these baked up nice and bright as is…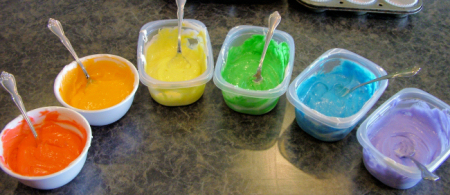 Now we're going to start filling our prepared cupcake liners.  Starting with purple, put about 1 tsp of cake batter into each liner.  I then kind of spread the purple out to cover the whole bottom nicely.  You can see below, the bottom row I spread out but the other rows I hadn't yet.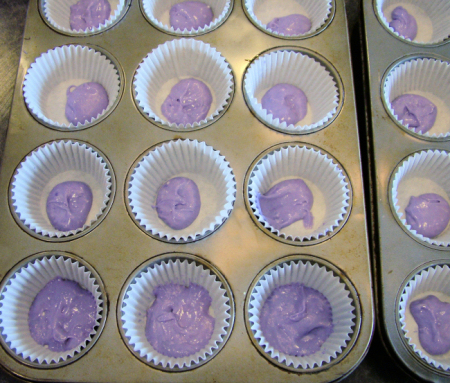 Then follow up with the next color (blue).  Add 1 tsp of blue on top of each purple layer.  Note I did NOT spread the blue out like I did the purple.  If you do too much spreading it will start to blend the colors.   I just kept putting one color on top of the other.  As I would dump each one in I would try to get it "spread" out as I dumped.  But I didn't go back and spread it to the sides.  As they cooked, the batter spread out on its own…you can see the end result above.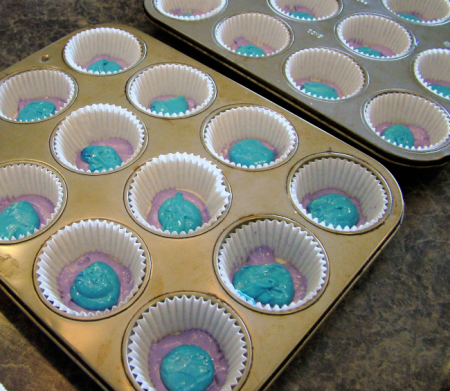 And continue on with the remaining colors (remember to continue to work backward).  Here they are finished & ready for the oven. (I almost forgot to take a pic!)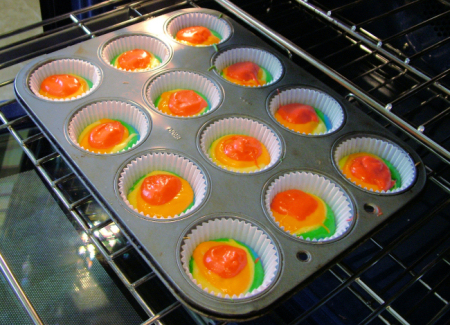 Bake them in the oven as specified in the box/recipe.  And when they are done…. yay! Rainbows! 🙂